08
October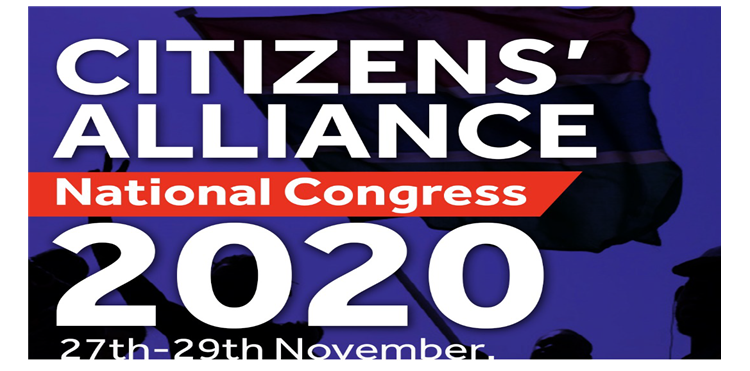 Call for Nominations of Candidates for Election to the National Executive Council.
The Citizens' Alliance is pleased to inform the general public and registered members of the party that its National Congress is scheduled to take place from 27-29 November, 2020. With this notice, and in accordance with the requirements of the Independent Electoral Commission, the Citizens' Alliance Electoral Committee is soliciting nominations for election to the Citizens' Alliance National Executive Council.
Qualified party members may nominate themselves. Other registered members may also nominate fellow party members who are qualified. However, the nomination must be accepted by the nominated candidate to be considered by the Electoral Committee.
The party is seeking nominations of candidates to fill in the following positions:
PARTY LEADER AND PRESIDENTIAL CANDIDATE (THE FLAG BEARER)
NATIONAL PRESIDENT.
SECRETARY GENERAL.
NATIONAL TREASURER
NATIONAL MOBILIZER/ ORGANIZER
NATIONAL COMMUNICATIONS OFFICER (Spokesperson).
YOUTH ALLIANCE (PRESIDENT)
WOMEN ALLIANCE (PRESIDENT)
ALLIANCE FOR DIFFERENTLY ABLED (PRESIDENT)
DIASPORA ALLIANCE PRESIDENT
Specific requirements in line with CA's constitution and national legal frameworks must be met for qualification.
Nomination Procedures:
Only Party members are eligible to nominate.
Members can nominate themselves or any other party member of their choice.
Members can nominate multiple candidates.
Names and phone numbers of nominees shall be sent to the Electoral Committee on or before the appointed time.
You must be a party member for at least 3 months to be able to nominate.
Nominators must provide their names and phone numbers at the time of nomination.
All nominations shall be confirmed by the Chairperson of the Electoral Committee.
Eligible party members are encouraged to send their nominations using the following channels:
WhatsApp Audio/Text (+220 3839604, +2206868248, +220 7528934)
Phone Call/Text (+220 3839604, +2206868248, +220 7528934)
Please note that, you will receive a text acknowledging your nomination. Deadline for the nominations is Friday, 22nd October, 2020 at Midnight GMT.
Yours in Service we remain, Chairman, Citizens' Alliance Electoral Committee.