05
November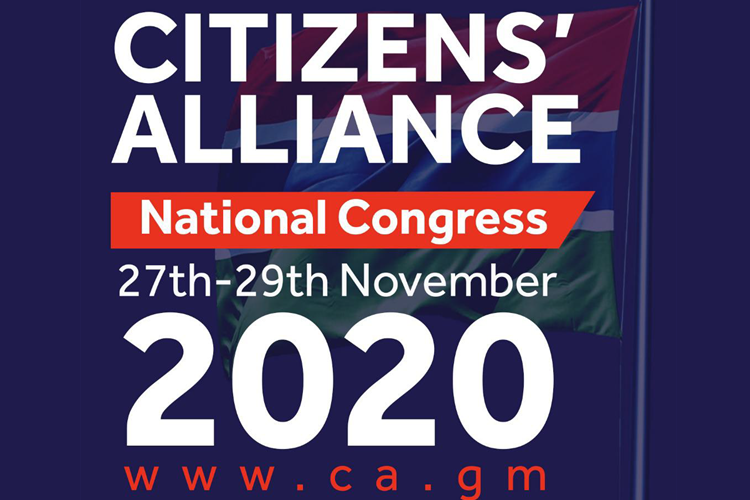 We wish to notify the general Citizens' Alliance membership and the general public that following the call for nominations, notice of nomination and vetting of the said nominees, the following have been nominated to contest at the forthcoming CA National Congress slated for the 27-29 November, 2020.
Flag Bearer and Presidential Candidate - Dr. ismaila Ceesay - Unopposed
National President - Mr. Dominic Mendy- Unopposed
Secretary General- Mrs. Maimuna Jallow- Unopposed
National Treasurer- Ms. Neneh Freda Gomez- Unopposed
National Mobilizer- Mr. Raffie Diab- Unopposed
Spokesperson
(a) Ms. Neneh Freda Gomez.
(b) Mr. Yaya Bojang
Youth President- Mr. Omar Dibba - Unopposed
Women President
(a)Mrs. Fatou Sonko
(b) Mrs. Kaddy Ceesay
Persons with Disabilities
(a) Mr. Anthony Jacob Stone Gomez
(b) Mr. Yusupha Hydara
CA Diaspora President
(a) Mr. Ali Jagne
(b) Mr. Momodou Lamin Kanagie
Therefore, the following are the positions that will be contested for at Congress:
Spokesperson
CA Women President
CA Persons with Disabilities President
CA Diaspora President
I hereby declare that the persons above are qualified to contest at The CA Congress. Campaign begins tonight, 3rd November, 2020 to Wednesday, 25th November, 2020.
All candidates are urged to campaign by all means legal. We wish all candidates the very best.
Signed: Jesse J. Dacosta
Chairperson
CA Electoral Committee